________________________________________
Glen is described as having a "Voice like warm maple syrup".

Listening to Glen Reid is a journey back to a time that many of us know only through lore and books. He was bred to know of lumberjacks and the timber camps, mining, immigration and the tough riverboats which linked industry to people and commerce. His lineage includes a miner (his father), a river boat captain (a great uncle), and immigration (his Irish ancestry). His appreciation of timber is transformed by him from mere wood into finely crafted musical instruments, keeping the stubborn fallen tree alive, still, through beautiful sound. The Reid line of guitars, mandolins, mandolas and acoustic basses (described as mandolins on steroids due to their unique shape and size) has garnered nods of respect and approval from industry peers with 2 Toronto studios, to date, boasting the acoustic bass as a feature.

Glen is busy following the very favourable acceptance of his "Heritage River" and "Wildcats Howlin" CD'S by fans and critics alike, after a hiatus from the music industry.

In 1998, Glen launched a dream - his own Heritage River Music Festival in the town that he grew up in, Burk's Falls, Ontario. The successful little festival has growen even bigger and continues annually, joining the heartbeat of the strong pulse that is the Ontario Festival circuit (see OCFF website for further information).

His pedigree is also branched through the Canadian music industry as Reid was a very active participant throughout the late '60's and through the '70's. Glen moved to Toronto at the age of 17, unleashing the well honed skills acquired from a childhood spent in a musical Northern Ontario family with a father who played banjo in a country band and his Irish grandmother who sang the old ballads. Glen learned to play anything that he could get his hands on and is now very versatile on stringed instruments, to the extent that he now builds them.

When he was young, word of Reid's musical dexterity soon spread and the hot 19 year old became a session man, first for Dominion Records and later for Boot Records. Reid backed Blind Freddie McKenna and Stompin' Tom Connors for several recordings (you will see his name on the credits of a few of Stompin' Tom's earlier recordings on guitar and banjo). McKenna then led the way to television for Glen, becoming alumni of CBC's Singalong Jubilee as a weekly player and frequent featured performer. Glen was also a sideman and a regular performer on John Allan Cameron's Let's Have A Caleigh, as well as "The Ryan's Fancy/Tommy Makem Show, The Harry Hibbs Show, and the George Hamilton IV Show.




Horseshoe Tavern Toronto 1972, Glen playing his fathers 1929 Bacon & Day 5 String Banjo

Hardrock Miner Album 1978

Back of Hard Rock Miner Album
Brannigans Boys Album 1969

Prior to television, Glen ran with the busy Branniganís Boys, an Irish pub band who played and toured extensively. It was for them that Reid wrote his most recognized and recorded song, My Green Valleys, (recorded over 30 times in the UK, Australia and Canada, including the Irish Rovers, Tommy Makem and Irelandís Wolftones). Reid finally released his own album on Boot Records in 1978 called Hard Rock Miner, which featured wonderful musicians including the virtuosity of Ken Whiteley and Denis LePage (who also produced it) as well as strong songwriting that bridged folk with country.



Escaping from the fast paced lifestyle of the industry, Glen left the city life behind and picked up the comfort of his old one, in Burkís Falls, Ontario, buying his childhood farm where he now lives today with his Fiddlerís Green woodworking company in full operation.

Glen has returned to music, realizing that you can run, but you canít hid because whether you want them to or not, the songs just keep coming. Thankfully, Reid acknowledged instinct and allowed new songs to surface.






Ron Jones, Joe Brannigan & Glen Reid 1973 at the Camelot

Glen & Dusty at home in Burk's Falls
Glen Reid's Career Highlights:

His clientelle is growing, along with his instrument line, as proud owners of Reid built instruments include: EmmyLou Harris, James Gordon (Tamarack), Gene Wilburn (NJO), Steve Fruitman, (the blackflies), Eddie Baltimore and Mitch Wallace (Slowpoke), Brad McEwan Nonesuch and The Mill Race Festival). Jeremiah Budnark (White Oaks Folk Club) & many more!

The successful launch of his "Heritage River Music Festival" of which he is the founder.

A regular performer on folk and country music television programmes such as Singalong Jubilee, 3 seasons with The Harry Hibbs Show, 4 seasons with George Hamilton IV Show as a guest performer and Assistant Music Director.

A favoured session musician for Stompin' Tom Connors, Blind Freddie McKenna, Stevedore Steve and other Boot and Dominion Records artists.

Original song, My Green Valleys has been recorded over 30 times in Ireland, England, Canada and Australia.

"My Green Valleys" is the Winner of 1992 Porcupine Award (THE STAN ROGERS GOLDEN QUILL AWARD)
"Heritage River" is the Winner of 1996 Porcupine Award (MAC BEATTIE AWARD)
Glen has reached into his heart and produced songs that incorporate the love of the land and its people. He may credit others for his inspiration but when it comes right down to it, Reid has defined for himself and others, what it means to be of this land. This is his second Porcupine Award.




Canada Day Muskoka Heritage Place Pioneer Village

The 3 Amigo's - Queens Plate Woodbine Race Track - Glen Reid, Bruce Longman and Eddie Baltimore
Glen & Bucky (Doc Bus Wardlaw 1982- 2007)

Two original songs, including the title track, on Rick Fieldingís critically acclaimed CD release, Lifeline (Folk-Legacy Records, 1995 CD123).

Toured with Branniganís Boys, Joe Brannigan, Ron Jones and Glen Reid (1969-1975).

Shared the stage with Tom Paxton, Ken Whiteley and John Gorka.

Performed at the Eaglewood Earth Festival (1995) and three successive years at the annual Wawa Prospectorís Festival.

Released Heritage River on his own Royston Road independent label.

Released Wildcats Howlin' also on his Royston Road label.

Glen continues to tour and is promoting his new Album "Dusty Ol' Denim" Available right here. Contact Glen from this web site.
$20. includes delivery in North America.
Glen Reid
R.R. #1 Burk's Falls, ON
P0A 1C0
Some MP3's available on this site




Glen Reid continues to Tour nema. This event is also a fund-raiser for the Burk's Falls library.

"Help the Library preserve Burk's Falls History"
The new songs on the next C.D. "Dusty Ol' Denim" proves Glen gets better with age. This eclectic mix of music shows a culmination of talents that only a lifetime of writing songs can accomplish. See the home page or C.D. page for info and downloads. All C.D.'s Available by contacting Glen from this site.



| | |
| --- | --- |
| 1994 Eaglewood Folk Festival -Tony Quarrington, Dreadnaught Guitar - Rick Fielding, Mandola - Glen on his Acoustic Bass -Grit Laskin with his Octive Mandolin | Fiddlers Green Cheering Section, Phantom, Phoenix in front, Paloma & Jazz at back |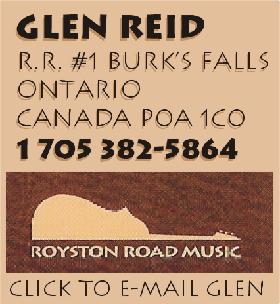 Click image to e-mail Glen