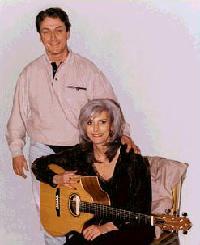 Glen & Emmylou Harris with her custom Baritone Guitar
_______________________________________
These are just some of
the notable customers
who enjoy the Reid line of instruments:

EMMYLOU HARRIS
JAMES GORDON
TONY QUARRINGTON
GENE WILBURN
STEVE FRUITMAN
RICK FIELDING
EDDIE BALTIMORE
MITCH WALLACE
MICHAEL WRYCRAFT
JEREMIAH BUDNARK
DOUG VIRGIN





A BRIEF BIO

Glen Reid is a working musician who has been building instruments for over 32 years. He believes in a very simple no nonsense approach with less sizzle and more substance. His initial goal was to build an instrument that replicated his favourite working guitar, at the time, which was the venerable workhorse of the industry (Martin D18). He also incorporated and designed a unique profile for his instruments, inspired by a 17th Century Portuguese instrument. He has also applied these principles to the other instruments in the Reid line and continues to develop and explore new ideas.

He wanted a guitar with low maintenance, a good sound at a reasonable price, designed and built for musicians by a musician. We feel that over the years this goal has been achieved and exceeded beyond all expectations!



FULL SIZE DREADNAUGHT GUITAR
24 1/2 " scale
Detachable neck
Ebony Pin Bridge
Black Cherry back/neck/sides
Sitka Spruce top
BARITONE GUITAR same only with a 28" scale.
PARLOUR GUITAR
22 1/8" scale
Detachable neck
Ebony Pin Bridge
Black Cherry back/neck/sides
Sitka Spruce or Tamarack top

ACOUSTIC BASS
30 3/4" short scale
34" long scale
Fixed neck
Adjustable bridge
Fretted or fretless
Black Cherry back/neck/sides
Eastern White Spruce top
Large body cavity (for exceptionally full volume)
MANDOLA
18 1/2" scale
Detachable neck
Walnut back/neck/sides
Eastern White Spruce or Tamarack top
OCTAVE MANDOLIN
22" scale
Fixed neck
Black Cherry back/neck/sides
Eastern White Spruce or Tamarack top
Also available in 10 String format - short scale 19 1/2"

MANDOLIN (not shown - also available)

13 1/8" scale
Fixed neck



Guitars also available in 12 string format and bass is also available in 5 string format.

Also ask about custom built BANJOS (not shown).

Most of the body woods used are indigeonous to Canada, such as Black Cherry, Maple, Walnut, Sitka and White Spruce and Tamarack.

Fingerboards, bridges, truss rod covers and tailpieces are Ebony.

More exotic woods are also available upon request.

Do not be afraid to ask about a special, one of a kind, instrument. We're always looking for a challenge!



Eddie Baltimore, with Lg. Body, Fixed Neck Mandola, Magnetawan Summer Concert '99

Rick Fielding putting Parlour Guitar Through it's Paces, Toronto '95

Steve Fruitman with Mandola, 1st Annual "Heritage River Music Festival" Burk's Falls '98
Manjo image by The Twelfth Fret Toronto

"Manjo"

Mando/Banjo Hybred -26" Scale, 5 string

-3 pc. back Cherry/Walnut -Black Cherry back, neck & sides

-Spruce or Cedar Top -Ebony fingerboard

-With optional side port

For the banjo player who wants a guitar sound.



______________________________
| | |
| --- | --- |
| 3 Amigos- Glen with mandola, Bruce Longman -acoustic bass & Eddie Baltimore, Queen's Plate at Woodbine Racetrack Toronto Ontario | Eaglewood Folk Festival '94 - Tony Quarrington, Dreadnaught Guitar -Rick Fielding, Mandola - Glen, Acoustic Bass - Grit Laskin with his Octive Mandolin |
_______________________________________